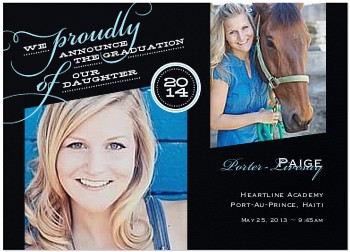 We have welcomed guests one through eight. Thursday five more will arrive; Friday, the last six. My parents and Britt and Chris are the family representatives, we are giddy they could all come. We haven't had the 8 kids all menm kote (in the same place) for 17 months. I heart having everyone in one spot! In reviewing the arrival list it is clear that we are looking at the names of some of our most trusted friends. I know you have friends like this too.
These are the people we can be real with; these are the people that we can tell when we hate Haiti, when we fear Haiti, when we love Haiti and when we don't ever plan to leave it. We can tell them all three things in one day and they will look at us with understanding and compassion. These are our people*.
Our faces already hurt from smiling so much, and we've only just begun this long Paigeapalooza weekend.
We are balancing the excitement of all this celebration and togetherness with the awareness that Paige's time here is ticking down too quickly. She has been packing up her room, choosing what will make the cut and be carried to Texas, and what will remain behind.
Monday she came upstairs to announce, "Mom. I am packing up my room." I looked at her and understood immediately. That is code for, "Let's stop for a moment and sob" ... Also, "Hold me." That's what we did.
Sajoy Sajoy Sajoy. Always with the sajoy.
(Paige's stuff leaves with the Texans on Tuesday, she won't be leaving for a few more weeks.)
We're having big group meals together each night. We will join a bunch of expat and Haitian friends and all be at Heartline's new property to watch Paige graduate on Saturday morning. Her younger siblings have prepared something special for her.
From now through Monday it is #PAIGEAPALOOZA morning, noon, and night.
Paige with her Grandma and Grandpa
Paige put together a bright, beautiful ABC's kids book in Kreyol as part of her senior project. We finally got our hands on a real copy last night. It turned out perfect. We're anxious to share a preview with you after Paigeapalooza wraps up and let you know how you can get one!
*We are missing you and wishing you were here Clearys, Slaters, Sextons - carrying you in our hearts, of course.